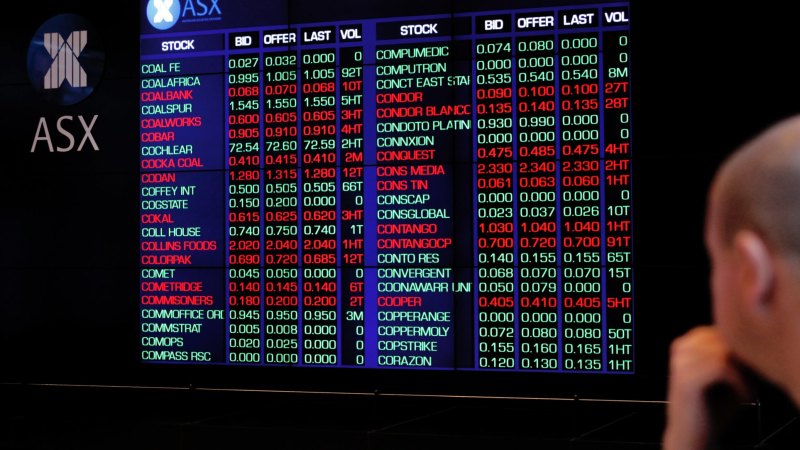 Australian shares rose firmly this week, as a number of firmer than expected earnings and positive outlook statements lifted the local market to its best week since July 5.
The S&P/ASX 200 Index rose 117.6 points, or 1.8 per cent, to 6614.3.
Industrial property giant Goodman Group lead the market today after reporting its operating profit surged 11.4 per cent to $942 million.
Stocks jumped 4.38 per cent, closing at $15.50.
Costa dragged the market down, closing at $3.17, a 16.36 per cent drop.
NAB dropped to $27.34, a 0.18 per cent change, after the corporate regulator said it would will sue the bank in the Federal Court over claims its home loan introducers were unlicensed and the bank failed to deal with customers fairly, honestly and efficiently.
Nick prices still remain firmly higher for the month despite a near 4 per cent fall in its price this week. While the metal has run hard in the last few weeks, analysts expect its price to remain elevated. "The rise in nickel prices this quarter has essentially priced in a 10 per cent disruption to global nickel production," said CBA mining & energy commodities analyst Vivek Dhar. "We think there are enough supply concerns from Indonesia for nickel markets to hold on to its recent gains, particularity with refined nickel stockpiles so low."
The British pound rallied hard on Thursday, climbing 1.1 per cent and topping out at $US1.225. The market appeared to be optimistic on the back of olive branches extended to UK Prime Minister Boris Johnson by Germany's Angela Merkel and France's Emmanuel Macron regarding Brexit. "The street seems to have resigned themselves to the fact that some sort of hard Brexit is now inevitable and positioned itself accordingly by selling all the Sterling it can," said OANDA senior market analyst Jeffrey Halley. "It may be a story for the coming weeks, but beware the 'Boris bounce'."
Mid-afternoon trading saw Mayne Pharma stocks remain strong, gaining 9.47 per cent to 0.52¢.
Sims Metal also remained strong, clocking an 8.3 per cent increase to $10.30.
Costa regained slightly but was down 13.72 per cent, sitting at $3.27.
While Pro Medicus dropped 4.15 per cent to $29.3, and Pilbara Mining sank 7.83 per cent to 0.38¢.
Westpac believe the RBA has become more concerned about global risks and that further international rumblings could require more stimulus. "Their current forecasts, which do not factor in any global growth deterioration, are still consistent with the need to lower the cash rate by a further 50 basis points," said chief economist Bill Evans. "Should these global concerns materialise, the RBA would need to consider further monetary stimulus. That would likely take the form of a further cut in the cash rate complemented by some form of unconventional policy."
RBC Capital Markets expect the price of gold will rally further however it is unlikely to soar anywhere near $US2000 an ounce. "Price forecasts have risen with worries around the trade war, rising global economic anxiety, and amped up expectations for monetary policy," said commodity strategist Christopher Louney. "While we still think that additional worries are set to unfold and send prices higher, most of that risk is weighted towards 2020 in our view." He added that the trade war could reignite again in mid-December when the delayed additional tariffs on Chinese goods are imposed.
If futures markets are right, by February next year the RBA cash rate will be at 0.5 per cent. If that makes you feel a touch uncomfortable, join the club. But what exactly is the cause of this unease?
This week a banking executive expressed, with remarkable clarity, why so many of us are troubled by the Reserve Bank's apparent determination to extend monetary policy to its absolute limits.
UBS increased its price target on Pro Medicus by 33.7 per cent but maintained its 'neutral' rating after the company delivered a net profit after tax result 12 per cent ahead the broker's expectations while also delivering strong outlook commentary.
"Operating momentum remains strong in Pro Medicus's core market but we see material upside from expanding its Enterprise Imaging offer to other segments," said analyst Josh Kannourakis.
"Pro Medicus is highly leveraged to the transition from Standalone IT to Enterprise Imaging." He added they were maintaining their neutral rating, saying its valuation was challenging. UBS increased its price target on Pro Medicus from $24.30 to $32.50.
The corporate regulator will sue National Australia Bank in the Federal Court over claims its home loan introducers were unlicensed and the bank failed to deal with customers fairly, honestly and efficiently.
NAB's introducer program was savaged by the Hayne royal commission when it was revealed the scheme was out of control and being rorted by a fraud ring in greater western Sydney, and a Ferrari-driving mobile bankeramongst others.
The Australian Securities and Investments Commission will allege instances of fraud and breaches of the National Consumer and Credit Act in relation to 297 loans. The maximum penalty for one breach of the act is between $1.7 million and $1.8 million.
Strict rules mean using your DIY super fund as a springboard to a holiday rental is unlikely, writes our Smart Investor agony uncle, John Wasiliev
Q: Is it possible to use a self-managed superannuation fund (SMSF) to invest in vacant rural land with the intention of establishing an Airbnb business on that land? We are 49 and 50 and the business would involve a hobby farm environment with unique Mongolian yurts to rent out as farm stays. Could we live on this land as caretakers in order to run the business? We have another business that offers opportunities for kids with special needs to learn cooking and experience rural life. Our SMSF has been around for less than a year but with money rolled over from other funds. Our intention is to pay any employer super into it and add to it as we can. We envisage the SMSF paying for the infrastructure like the land, buildings and a bore for water. Helen
A: While in principle it is possible for an SMSF to invest in rural land and establish a holiday let via an Airbnb arrangement, says Jeff Song, a superannuation solicitor with Townsends Business and Corporate Lawyers, in practice it's a lot more complicated.