A late turn in the market has seen BHP and Fortescue rise since 3.30pm, pushing the ASX and All Ordinaries higher. This coincides with Singapore iron ore futures hitting a session high of $US90.25 a tonne just minutes ago, up 3.9 per cent for the session. Dalian iron ore is also up 2.4 per cent to ¥642 ($US91.02).
CSL is still up 6.8 per cent and acting as a counter-balance to Commonwealth Bank going ex-dividend and falling over 3 per cent today.
Meanwhile, Eclipx Group was trading around $1.50 all day then suddenly jumped up to $1.56 late in the afternoon, a rise of nearly 7 per cent.
Capital Economics says today's data suggests the Chinese economy is facing "renewed downward pressure".
"Even with fiscal policy turning more supportive, we think that construction activity will remain under pressure in the coming quarters as the recent boom in property development unwinds," Julian Evans-Pritchard, senior China economist at the consultancy group, said in a note.
"A weaker renminbi is unlikely to fully offset the increasing headwinds from US tariffs and cooling global demand, and we expect a further slowdown in economic activity over the coming year as a result."
by David Scutt
Desane Group Holdings released guidance for its full year results this morning, expecting earnings before interest and tax (EBIT) of between $39.1 million and $39.3 million. Strangely, this is lower than its half year earnings of $39.7 million.
Managing director and chief executive Phil Montrone says the half-year results include $38.9 million from the $78 million sale of a property in Rozelle, Sydney, to the WestConnex project. Since then Desane has been looking for new properties to buy. It has spent about $400,000 on administration and valuations.
"We have inspected and looked at 82 [commercial] properties in the market. Only two properties fitted our criteria," Mr Montrone says.
"It is just money spent on scoping properties, a large number of property have to be scoped and researched. A lot of management time is going into it and a lot of valuations. We have expenses."
Desane shares are up 1.4 per cent today to $1.42.
Vicinity chief executive Grant Kelley says "unforgiving" investor sentiment towards retail funds globally forced Vicinity's hand in pulling 12 shopping malls from sale, with all of the malls now staying on Vicinity's books.
"We had bids for the assets. They just weren't at a level that made sense," Mr Kelley told commercial property editor Simon Johanson.
Five of the malls tagged for outright sale "had challenges" but the fund manager will "crack on" and focus on enhancing the retail mix, leveraging other income opportunities and identifying efficiencies, he said.
Mr Kelley said Australia's retail downturn was unlikely to ease soon. Read the full story on Vicinity's results here.
"In the near term it's going to be tough. Basically every piece of bad news has been priced into retail sector and very little of the good news."
Moody's Investors Service labelled the decision to cancel the sale "credit negative".
"It will keep the weaker assets in the portfolio while limiting capital recycling for growth initiatives," Moody's said.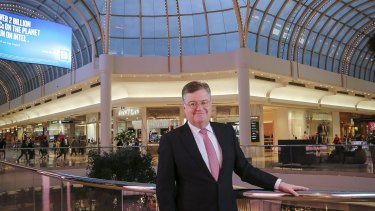 Grant Kelley, CEO of Vicinity Centres, in its flagship Chadstone shopping centre. Credit:Wayne Taylo
Shareholders in Aveo Group are rushing to sell after this morning's announcement it has entered a scheme of implementation with entities controlled by Brookfield for a full takeover. The Canadian investment powerhouse has struck a deal that gives shareholders a cash payment of $2.195 per security. This price includes a 4.5¢ dividend announced on 24 June that is payable on 30 September (the record date was 28 June). Taking that dividend into account, shareholders will receive $2.15 per share.
However, shareholder's desperation to leave the register means they are selling en masse and willing to forfeit 3 cents per share. Shares are currently at $2.12. Nearly 86 million shares have traded so far today, with a further 11 million lining up for sale for as little as $2.13.
And someone has sniffed an arbitrage opportunity to make a quick 3¢ per share profit, with 28 million buy orders starting at $2.12, according to the market depth monitor provided by Bloomberg.
Shares in Argosy Minerals are up 11 per cent to 11¢, the biggest gain in the All Ordinaries today, after executing an agreement to buy Tonopah Lithium Brine Project in Nevada for $585,000.
It is buying 100 per cent of Tonopah Lithium tenements from a consortium of LCME Holdings (part of ASX-listed Lithium Consolidated Ltd), Big Smokey Explorations, and ProspectOre.
Argosy told shareholders this morning that lithium is on the US government's 2018 Final List of 35 Minerals Deemed Critical to US National Security and the Economy. And the Department of Commerce has said it would take "unprecedented action" to protect lithium supplies. It is an essential ingredient in batteries. Argosy's main asset is the Rincon mine in Argentina.
Gambling group Tabcorp has lifted its fully-year earnings by 7.6 per cent, as its booming lotteries and keno business offset lower profits from its bookmaking arm. The company on Wednesday reported earnings before interest, tax, depreciation and amortisation (EBITDA), and before significant items of $1.06 billion for the year to June 30.
That compares to $989 million a year earlier on a pro-forma basis of the combined Tabcorp and Tatts businesses, which merged last year. The company said its lotteries were becoming more popular as it tweaked the form of the games to deliver larger and more frequent jackpots, and more winners overall.
The EBITDA results were 1 per cent below the market consensus, and "slightly disappointing", according to Macquarie analyst David Fabris.
While it was pleasing Tabcorp had reaffirmed its forecast to deliver savings of $135 million to $145 million through the merger, "we do question the ability to capture the revenue benefits given that the generosities spend in wagering has impacted fixed price yields," Mr Fabris said.
On the back of China's weaker than expected economic data the S&P/ASX 200 materials subindex has also fallen into negative territory having jumped as much as 0.8 per cent in early trade. Materials are currently down 0.04 per cent.
The entire S&P/ASX 200 touched a new intra-day low of 6568.5 after the data came out. However, it is still in green, up 7.6 points. Without CSL's contribution of nearly 21 points, the index would be down around 6555.3, a fall of 0.2 per cent.
Wall Street's S&P 500 futures are also trading down 0.2 per cent, near the lows for the session.
Chinese economic data released today has undershot market expectations across the board, adding to concerns about the health of the world's second largest economy.
Industrial output increased by 4.8 per cent in the year to July, the slowest annual increase since February 2002. That was down from 6.3 per cent in the 12 months to July and well below the median economist forecast offered to Bloomberg of 6.0 per cent.
Retail sales also disappointed, growing 7.6 per cent over the year, below the 8.6 per cent level eyed by markets. Completing the trio of data misses, urban fixed asset investment grew 5.7 per cent in the six months to July, compared to the same period a year earlier, falling short of the 5.8 per cent level expected.
The Australian dollar has fallen following the release of the data, hitting a session low of 67.78 US cents. It currently trades at 67.86, down 0.21 per cent from Tuesday's close.
by David Scutt
The S&P/ASX 200 has softened as CSL's share price comes back down to earth. It is now 5 per cent higher at $230.64. However, its gains are significant contributor, adding 19 points. The market would be down without CSL's contribution today.
The index is also being dragged down by Commonwealth Bank shares going ex-dividend today, with the bank down 3.2 per cent. This has taken 17 points away from the index.
And gold miners are sliding today with Newcrest Mining down 3.2 per cent to $36.29, Northern Star down 7.8 per cent to $12.06, Evolution Mining down 6 per cent to $5.08, and Saracen Minerals down 8.3 per cent to $4.10.