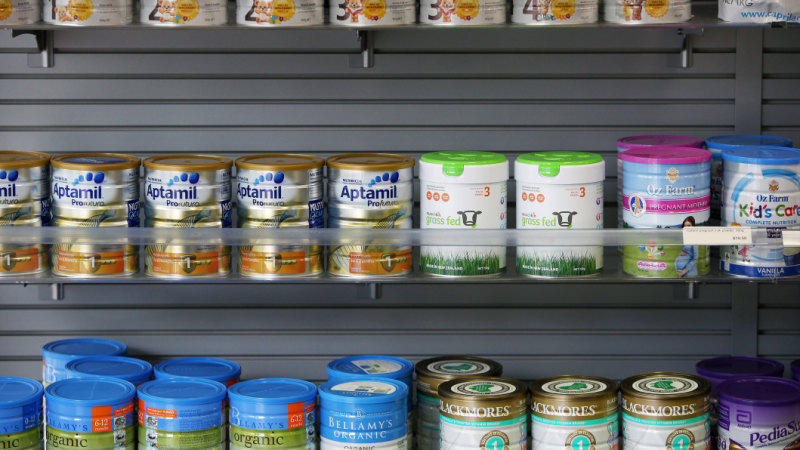 "For A2 Milk Company and Bellamy's, the risks are that their effective addressable market in China will shrink," Morgan Stanley analyst Thomas Kierath said in a report.
A report from China's National Development and Reform Commission kickstarted the sell off in A2 and Bellamy's late on Monday.
The extent to which the US and China are prepared to damage other nations in this process is becoming more evident each day.
While the report made it clear that authorities want to increase China's domestic market share to beyond 60 per cent, it was less clear on how that would be achieved.
At this stage there is no suggestion of using traditional weapons like tariffs. Rather, the application of heightened regulations on cross border e-commerce sales and stronger checks around quality will be employed.
The move could impact the flourishing Daigou trade – which sees products like infant formula and vitamins bought off the shelves of Australian supermarkets and chemists, and then sold online in China.
Loading
The Chinese government's plan is to increase the trust Chinese consumers place in their local product.
China's quest to self-supply its needs locally feeds into the trade rhetoric being employed by both the US and China at the moment.
It's a $27 billion industry in China wants to be 60 per cent self sufficient – a significant leap from the 47 percent level it is today.
According to Euromonitor International, the top four infant formula firms in China are all based in the U.S. and Europe, accounting for 40 percent of the market.
The extent to which the US and China are prepared to damage other nations in this process is becoming more evident each day.
The trouble with China's attempts to push its people into buying local baby formula product is that it requires consumers to overcome a level of mistrust they have with the quality – asking parents to take a chance on what they feed their babies.
Back in 2008 the image of Chinese baby formula producers was tarnished when some were found to have been contaminated with chemicals.
This opened the floodgates to foreign suppliers including those from Australia.
Australian producers have always been aware that their Chinese sales are vulnerable to regulatory changes, and as recently as last year had to deal with additional requirements for registration.
But the New Zealand and Australian suppliers have been trusted by Chinese consumers around quality.
Loading
The second leg of China's plan is to encourage local companies to buy offshore supply and motivate offshore producers to invest in China.
It is too early to guess whether this may make Australia or New Zealand companies potential merger or acquisition targets.
At this point they look more like victims of the Trump induced trade war.
Elizabeth Knight comments on companies, markets and the economy.