Businesses on Tyneside are being offered the chance to have their branding emblazoned over one of the Tyne's most eye-catching icons.
Gateshead Council has been quietly trialling a service which permits charities and local businesses to have the Gateshead Millennium Bridge illuminated for one night in their own corporate colours – something that has normally been reserved purely for national and international celebration days and charities.
Such has been the response that the council has now decided to promote the unique service not only to more businesses and charities, but to individuals who are keen to put their own personal stamp on one of Tyneside's foremost landmarks.
The 50m high main arch of the Gateshead Millennium Bridge is illuminated using a series of high-powered computer-controlled light cannons capable of projecting any colour in the visible spectrum onto the arch, as well as combinations of colours, stripes or even a full rainbow.
On weekdays, the bridge is normally illuminated in pure white, with a variety of changing colours generally used at week-ends.
"The local business community has already discovered that this is a brilliant way to get noticed."
A number of businesses have already taken advantage of the chance to colour the bridge as part of a major promotion, including watchmaker Rolex, local accountancy firm MHA Tate Walker, Tourism Ireland and the JCT600 car dealership as part of a launch event for the new Porsche 911 Carrera S.
Councillor John Adams, Gateshead Council's Cabinet member for Economy, says: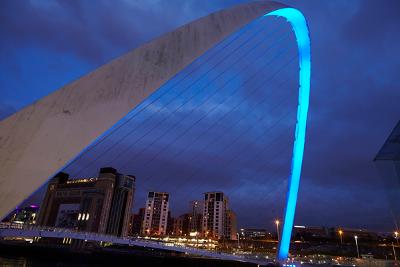 Above: powerful light cannons illuminate the bridge's 50m hoop "The local business community has already discovered that this is a brilliant way to get noticed.
"Offering the opportunity to illuminate the bridge in your chosen colours has proved really popular with the businesses, large organisations and charities we've spoken to, especially when those organising a conference or an event at one of the Quayside venues such as Baltic or Sage Gateshead where the bridge's illumination has provided a stunning climactic backdrop.
"Lighting up in business branded colours is absolutely ideal for a celebration, a launch event, a re-brand or for providing a big strong 'we are here' message which could highlight a new business in town.
"We are delighted to be able to offer this unique service to all local businesses. It will suit so many major occasions and could provide real impact."
The new service is not reserved just for businesses, however. Members of the public can also request the bridge to be lit in their own chosen colours to accompany a wedding celebration or a marriage proposal, or to celebrate a loved one's birthday or anniversary, or simply as the backdrop to a romantic dinner overlooking the Tyne.
As well as lighting the bridge, Gateshead Council is also able to hire out their outdoor spaces on Baltic Square and on Performance Square adjacent to Sage Gateshead.
Lighting the Gateshead Millennium Bridge from dusk until 2am in up to three different colours costs £240 + VAT. There are substantial discounts available for charities.
To enquire about lighting the Gateshead Millennium Bridge for both business and personal use, please contact Gateshead Council's Culture Team on (0191) 433 3120 or email culture@gateshead.gov.uk.