Ridge has returned to Australia to meet existing and prospective investors – he declines to say who – and to spend time with friends he made attending Drummoyne Boys High School.
And he has major plans for the WD-40 Company, which is listed on New York's Nasdaq index, with a target of growing revenues from $US400 million this year to $US700 million by 2025.
He is quick to dismiss my suggestion that everyone already knows about WD-40.
I remember saying to my dad 'hey dad, I've been offered a job at WD-40 and he said to me 'you can't go wrong with that stuff son' and I think he was probably right.

Garry Ridge
"In Australia they do … our business here is north of $US20 million, but there's lots of squeaks in China and lots of rust in Russia," Ridge says.
"When I joined the company as chief executive in 1997, our revenues were about $US100 million and 90 per cent of our business was in the United States."
WD-40 was originally invented in 1953 by the Rocket Chemical Company to stop corrosion in the Atlas, a type of missile and space shuttle launcher, and brought to Australia by aerospace firm Hawker de Havilland where it began to be distributed to Waltons department stores.
After school Ridge went into retail and after some time in Waltons' management traineeship program, eventually become the national sales manager at Hawker.
After several trips to meet the WD-40 sales team in San Diego they offered him a job and in 1987 – "with a fax machine under my bed" – opened the company's office in Sydney.
"I can remember when I was offered the job a WD-40," Ridge says.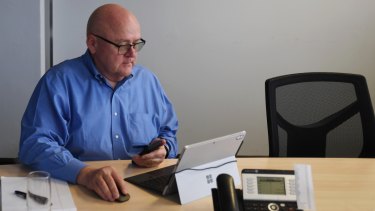 Garry Ridge is usually based in San Diego.Credit:Nick Moir
"My dad was an engineer and he worked for the same company for 50 years – a company called Westinghouse or, in fact, back then it was called Email believe it or not.
"I remember saying to my dad 'hey dad, I've been offered a job at WD-40 and he said to me 'you can't go wrong with that stuff son' and I think he was probably right."
Now the task will be taking a simple product of automotive lubricant and doubling revenues.
Despite the long history with WD-40, the company outsources all its manufacturing, although Ridge says the products sold in Australia are made locally.
"What we have done in Australia and around the world is extended the WD-40 brand," Ridge says.
"Now we have a range of products called WD-40 Specialist and if you were to go into a Supercheap Auto or a Bunnings, it's not just blue and yellow cans.
"We recently released a range of product called WD-40 Bike, which is a range of products to clean, lube and protect your motor on your bicycle.
"The other thing that we do is we are innovating the delivery systems which we highlighted at the Phillip Island (WD-40 Supersprint, held in April) just a few weeks ago.
"It's a delivery system called WD-40 Easy Reach and basically it's a can of WD-40 with an 8 inch flexible delivery nozzle that allows mechanics to get the product to hard-to-reach places.
By 2025, two-thirds of the company's revenue is forecast to come from the original WD-40 products while the rest will include variations to the products from the WD-40 Specialist range.
To help that expansion, Ridge took the company on an investor roadshow to Sydney and Melbourne, where he met with major superannuation funds and fund managers.
"We're not raising capital at all, we don't need the money," he says.
"We're just talking to people who may want to buy those from the current capital … we're just making people aware that we may be an investment."
He says the WD-40 business is already big in Europe and America, but there are opportunities in other markets including Indonesia, Thailand and China.
Next stop after a weekend with those schoolmates: Shanghai.
Kylar Loussikian is The Sydney Morning Herald's CBD columnist.